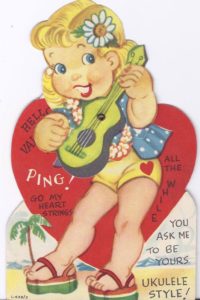 Our February Zoom Meeting will be at 6:30 on Feb. 4, 2021.  We've opted to make this month's theme Love, Hearts, or Red (in the lyrics).  This includes heartbreak songs.  Wear something red for fun!
The Steering Committee is asking for your participation in leading songs. Remember, this is JUST FOR FUN.  Mistakes are allowed. We'd love to see some new faces! This is your opportunity to contribute to our group. We need you!
The song you want to lead can be chosen from our Core Songs list here: http://prescottukuleleguild.org/songbook/. Or you can choose a song from Big Yellow. If you want to lead a song and don't have the music as a file to send Nancy, contact her,  she would love to help you.
Here are some songs we hope to play!
Little Red Uke Rev 1.29.21Love Me Do Rev 1.29.21Love Potion No. 9 Rev 6.8.20 Ain't Misbehavin' Rev. 2.2.21 Love Me With All of Your HeartDream Lover Rev 7.8.19
We are looking forward to a lesson from Steve this month.  Bill Zombeck will be our Emcee.
See you on the 4th!