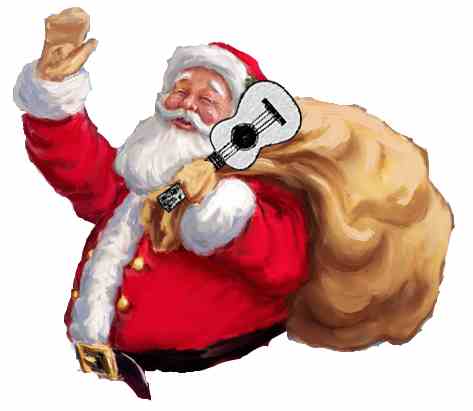 Our December meeting will take place on Dec. 2 at 6:15 pm at the Prescott Public Library.  Here are some details!
FIRST AND FOREMOST – COVID NUMBERS REMAIN HIGH in our county. We are asking that you respect other members' health (and the Library's guidelines) by wearing a mask as you come in to the meeting and keep it on at least until you are seated.   For your own safety and that of those around you, it would be ideal to wear your mask at all times unless you're leading a song. If we can all do this one small thing, we can continue to meet in person.
Our theme, of course, is Holiday music.  We'll have an "Open Jam" (instead of a lesson) using PUG Core holiday songs which can be found here: http://prescottukuleleguild.org/songbook/ Please look them over and decide which one(s) you might want to play and lead for the group! If you are shy about getting up to lead a song, ask a friend or one of the Steering Committee members (Nancy, Sue B., Donna, Doreen or Bill Z.) to get up there with you to help.  Please see the songbook page for available songs that we can project onto the screen for everyone to use.
Please get in the holiday spirit by wearing your favorite ugly Christmas sweater, or Santa hat, or reindeer antlers, or anything else festive that you have.
Meeting starts at 6:15pm
Bill Z is the emcee.  If you want to make any announcements over the mic, please clear them with Bill.