AGENDA FOR JUNE 3!
Our emcee will be the lovely Doreen, and Dougal will lead us in an Open Jam.  Please bring all your core PUG song sheets and Big Yellow.  (If you don't have Big Yellow, make friends with someone who does!). We'll also have a one song spotlight performance from Kanikapila to kick things off.
Hello PUGsters!
(If you are new to PUG, please click to see FAQ notes.)
The steering committee has some great (we think!) news about our June 3 meeting!  We have secured the Founder's Suite at the Prescott Public Library for the first Thursday of every month.  Due to the recent change in CDC guidelines, we feel it is time to get back to singing and strumming together, live and in person. (See infographic below)  As many of you recall, the Founder's Suite, which is downstairs at the library, was a place where we met once upon a time.  There are chairs, and electricity.  The windows are not operable, but it's a large room.
It will be up to each person to decide for themselves if they need to wear a mask when they attend. If you are not fully vaccinated, the CDC is still recommending you wear a mask in our situation – however, the decision – and responsibility – is up to each one of us.  
New data is showing that vaccinated people are very unlikely to either get the virus, or pass it along unknowingly to those who are unvaccinated.  We also plan on spacing the chairs a little further apart, and the Founder's Suite is a very large room, if you prefer to move your chair even further away from others. We will have some disposable masks available for anyone who wants one.  Remember, singing indoors is still a risk ("least safe") for the unvaccinated, as you may be around other folks who haven't taken the vaccine and who are singing.  Vaccinated folks are A-OK, per the CDC.
Since we have the room from 6-8pm, we thought we'd plan on starting at 6:15pm and finishing at 7:45pm to allow a cushion for getting set up.  The chairs will need to be moved in and out of place in the room, so your help before and after the meeting is appreciated.
The thought of playing, singing, and just being together is a cause of joy for many us! Please feel free to email info@prescottukulele.guild.org with any questions or concerns.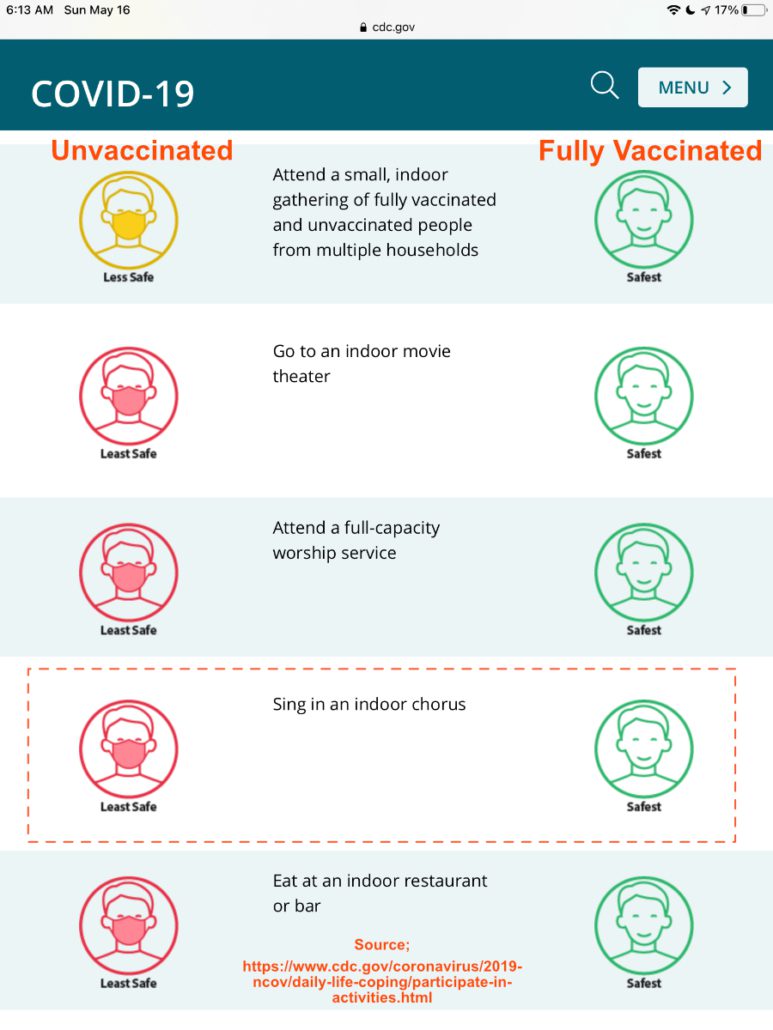 – PUG Steers